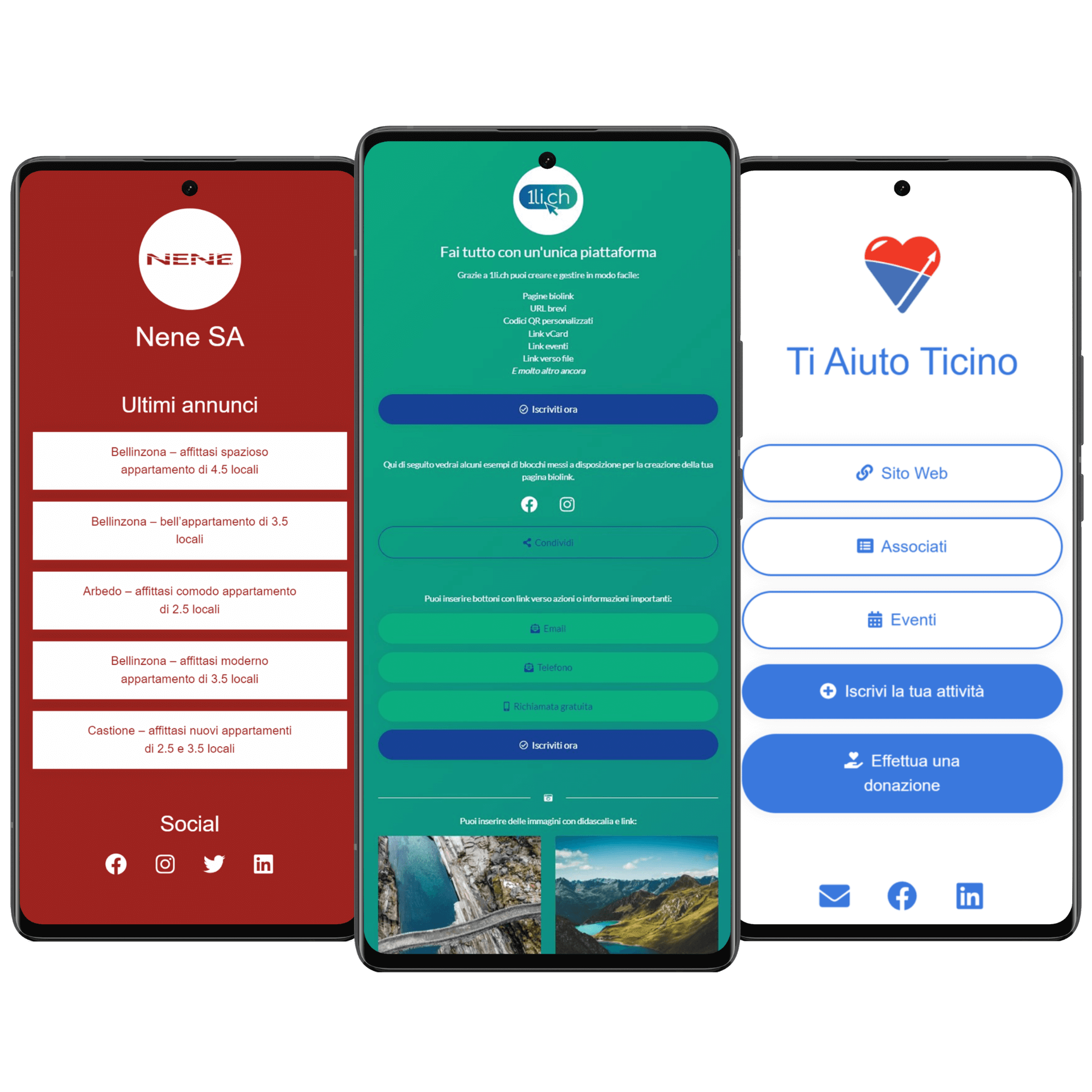 One platform

Many possibilities
Biolink pages

QR Codes

Short Links

vCard links

Event Links

File links
Create biolink pages, short URLs, custom QR codes, vCard links, event links, links to files, and more.
1li.ch is the 360-degree solution through which you can put value on your content, anywhere and for anyone.
Here are some of the main features of biolink pages
Some biolink pages created with 1li.ch
We are not limited to biolink page creation, but offer you a digital marketing solution with many useful features
Try 1li.ch
free of charge
You can test the potential of 1li.ch by taking advantage of the 14-day free trial.
No credit card is required, you will simply be converted to the free plan at the end of the trial.
If you have any questions, feel free to take a look at our frequently asked questions, or send an email to

info@1li.ch


No credit card is required for the free trial; your account will simply be converted to a free plan if you decide not to proceed with your chosen paid plan.
Would you like a longer trial period? Please feel free to contact us and we will see what we can do for you.
Upon request, we can also configure a plan tailored for you, with limits and features freely set according to your needs. Contact us and together we will define the plan that's right for you.
Bring value to your content, anywhere and for anyone
With its simple interface and unlimited customization possibilities, in the blink of an eye, you will have created a biolink page that matches you 100%.
You'll be able to customize the background (choosing from colors, gradients, images, and even videos), change fonts, element colors, add icons/images, choose the shape of elements, and most importantly you'll have a broad palette of blocks to choose from to compose your page.